Farm & Table: Food/farm pairing
Sunday, 09 September 2012
Your palate needs a moment to fully comprehend the vibrant flavors of Albuquerque's Farm & Table, a community eatery rooted in the North Valley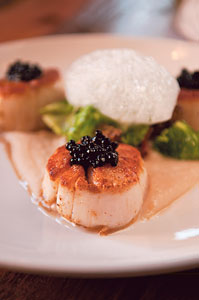 By Justin De La Rosa
The locavore concept of farm-to-table dining is not so much a trend as it is a movement of social consciousness and an ardent love of fine foods. Locally sourced ingredients not only provide diners with fresher flavors, but it also leaves them with peace of mind, knowing the environmental impact is far reduced and a local business is being supported.

"Delicious local food. Beautiful setting. Vibrant community." These are values listed on the website of what is arguably one of the City's best restaurants, Farm & Table.

Owner Cherie Montoya Austin opened Farm & Table with her husband, Joseph Austin, in March of this year. Cherie grew up in a family that has always grown their own food and prepared it as it was harvested. She is now sharing her deep-rooted love and respect for food and the land from which it comes with the Albuquerque community at this gorgeous restaurant in the North Valley.
Farm & Table
8917 4th NW, 505.503.7124

Dinner: 5-9p, Wed.-Thu.; 5-10p, Fri.-Sat.
Brunch: 9a-2p, Sat.-Sun.
It is housed in a welcoming adobe building with a nine-acre alfalfa farm and 1.5-acre produce farm as the backyard. A sprawling patio rich with southwestern ambience is the most inviting aspect of the place, aside from the food itself.
Chef Ka'ainoa Ravey
, previously of
Casa Vieja
, is the creative hand behind the cuisine, though Ravey recently departed to become the new chef of
Red Sage
at
Buffalo Thunder.

Charm, a buzzing aura and effusive epicurean enjoyment were among the intangible delights my companion and I experienced during our visit. A top-notch front-of-house staff was well-educated on wine pairings and palate pleasers.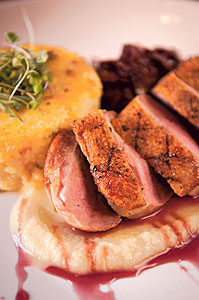 Our server, Julian, explained to us that he had been with Farm & Table since before its opening, so we opted for his suggestion of mushroom and kale empanadas ($8) as an appetizer. Paired with a glass of Vina Nora Albarino ($9.50), this absolutely delectable stuffed pastry was garnished with pickled onions and cucumbers, which complemented the rich creaminess of the empanadas' Tucumcari sharp cheddar filling.

We also tried the special soup of the evening, a red chile sausage ($4/cup) with kale, potato, tomato, onion, and carrots, paired with a peppery red Castillo de Monseran Garnacha ($9).

Choosing an entrée was difficult, as the offerings were all enticing in their own right. I went with the local fig-wood cold-smoked and seared scallops ($21), served atop a white bean puree with bacon Brussels sprouts and an apple foam, with each scallop garnished with balsamic caviar. My partner ordered the pan-seared duck breast ($22), served over apple puree with an asiago polenta cake and braised red cabbage that was drizzled with a honey port sauce.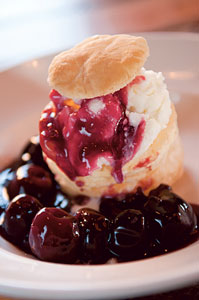 My recommendation is to sample a small bite of each element of the meal to allow your palate to comprehend what is happening with the various flavors when you finally take a combined bite of everything. One of the more remarkable flavors was the balsamic caviar — each caviar egg encased in a 12-year balsamic that we could only liken to tiny vinegar water balloons filled with caviar. 
The scallops were blissfully buttery as each bite practically melted in my mouth. The caviar and white bean puree soothed the richness of the scallops, while the Brussels sprouts added a nice crunch and a hint of sweetness from the apple foam. Suggested wine pairing is the Santa Ema Sauvignon Blanc ($7.50).

Meanwhile, the duck was by far the most tender and succulent either of us have ever had. It is cooked with the skin on, which preserved the gamey richness and light crispness. The polenta cake and apple puree added a full texture, as the crisp cabbage was quite a high note that brought the dish together.

For dessert we tried a plum pie, which featured a mascarpone ice cream, puff pastry and a few cherries to supplement the seasonal demand for plums. It was a perfect, sweet cap to an absolutely lovely meal.
It would be in your best interest to make a reservation around 7:30p on the patio before the summer ends. The romantic ambience of the patio is beyond the offering of any other dining establishment in Albuquerque, though I do look forward to a warm and charming meal in one of the two dining rooms inside the restaurant.