Wednesday, 03 December 2014 17:00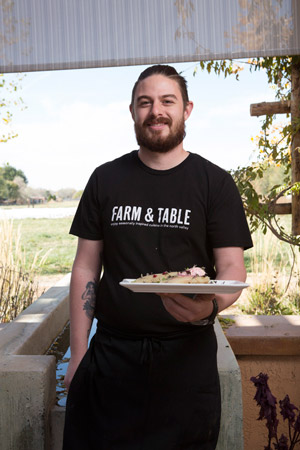 Braised Duck Tamales
The name says it all. Farm and Table. Fresh local food brought right to your table. Sound perfect? Yep, that's the idea. They source local ingredients (over 80 percent of the menu) and design their menu to highlight them. They believe in the community that grows our food and supports it. They compost and recycle. Think it's a gimmick? Think again, they have their own farm. They employ a full-time farmer and even raise and sell their own cattle. You can't get more genuine than that. One of the things I enjoy most about the menu at Farm and Table is that not only do they use local ingredients, they reinvent our beloved dishes. They are true to the heritage of New Mexico. The Braised Duck Tamales are a fascinating combination of delicately braised duck, apples, green chile, pomegranate, sage, butter and masa. It's unlike any tamale I have ever eaten.
Thursday, 13 March 2014 12:08
Cherie Montoya Austin, who grew up in the North Valley of Albuquerque, the greenest and most fertile part of the city, started Farm and Table restaurant, an obvious culmination and continuation of her values and traditions. Chefs prepare seasonal menus according to what the current fresh crop of the day is - a concept embraced by the environmentally conscious society of today. Farm and Table gets their food from local farms and elsewhere in New Mexico - corn from the Santa Ana Pueblo, beef from Los Lunas and potatoes from Santa Fe, for example. Local beers and wine accompany the scrumptious fresh meals such as Cider Glazed Pork Chop and Pan Seared Duck Breast. Fresh from the farm soups, salads and small plates area available too. Open for dinner only, Wednesday through Saturday and brunch on Saturday and Sunday.

Read the full article here - http://www.10best.com/destinations/new-mexico/albuquerque/north-valley/restaurants/farm-and-table/