WOMEN & CREATIVITY is an annual, month-long series that celebrates women's creativity across the disciplines. This year marks the 11th anniversary of the program.Women & Creativity places particular emphasis on the innovation, exchange and leadership of our community's most visionary women. Farm & Table, La Parada and Sol Harvest Farm are pleased to offer meaningful events in partnership with Women & Creativity!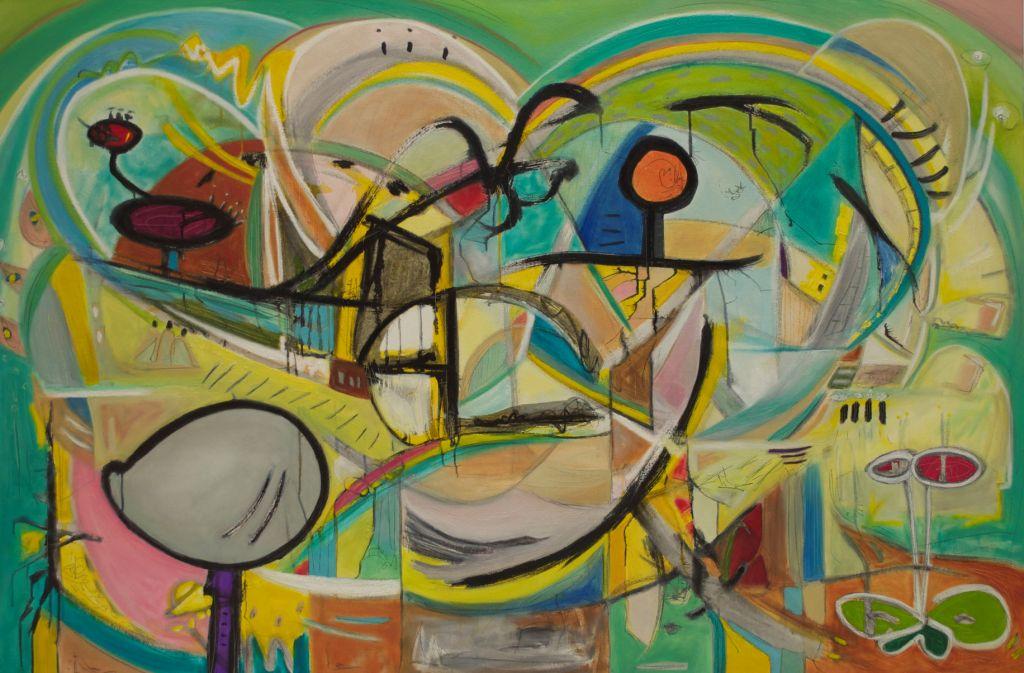 The Vibrant Work of Shakti Kroopkin
Showcased at Farm & Table until June 26
The work of local, contemporary artist will be on view at Farm & Table. Shakti's abstract "shapespaces" are rooted in her memories of the Chicago cityscape, combined with the vast raw beauty of New Mexico where she currently resides. The artist's process exposes luminous spirit, imagination and movement while being grounded in her unique visual language of reoccurring lines, shapes, color and symbols. The raw expression of emotion and energy traverses the limitations of the finite world, inviting the viewer on a journey offering the freedom of infinite play.
Women, Wine and Wellness: A Mindful Brunch
Saturday, March 26 | 1:00pm | $45
Join us on the patio at Farm & Table for a three-course, wine-paired brunch while experiencing mindfulness and gratitude. Guided by mindfulness expert Lara Patriquin and gratitude specialist Antonia Montoya, this brunch will include seasonal dishes created by Farm & Table's executive chef Carrie Eagle and pastry chef Tracy Johnson, with paired wines selected by curator Amy Haas. We will explore incorporating mindfulness and gratitude in everyday tasks such as eating, drinking, walking, and engaging with others. Space is limited. Email to reserve your spot.
Partners: The Mindful Center, Michelle DuVal and Lara Patriquin; Antonia Montoya of Our Gratitude Collective; Aimee Conlee of Sol Harvest Farm; and Cherie Montoya of Farm & Table.
A Feast for the Senses: A Pop-Up Dinner
Tuesday, March 29 | 7pm | $75
At the Sanitary Tortilla Factory
403 2nd St SW, Albuquerque, NM 87102
Food is inherently sensory. It engages our senses every step of the way—we procure, prepare, salivate, and savor. But more importantly, food is social. It connects us to the people who provide for us, for whom we cook, and who eat with us at the same table. Join us at the table as we take you on an exploration of all the senses during this pop-up dinner served up by Chef Carrie Eagle. Partners include SCA Contemporary Art, Edible Santa Fe, Farm & Table, and Sol Harvest Farm.
.
La Parada - Creative Women Showcase
Each Saturday in March
La Parada will be featuring local artists during the month of March. Michelle Lowden, Antonia Montoya, Felicia Montoya, Barbara Miller, and Marisa Stanford. Please visit their for details.