Friday, 11 October 2013 14:11
To Market, To Market
By CHERLY ALTERS JAMISON - Photography by JACYLN O'LAUGHLIN, RACHEL RIPPIE
Country and city agricultural adventures in and around the Albuquerque area
Sol Harvest Farm
This North Valley farm grows vegetables, herbs, and flowers on two acres and has nine acres of alfalfa and grass open space. It sits behind and serves as the "resident farm" for the Farm & Table restaurant. Farmer Ric Murphy follows organic growing practices and offers a variety of produce at his farmstand.
Farm & Table
The name pretty much says it for this impressive little restaurant. Owner Cherie Montoya Austin grew up in the North Valley (her father owns the land that is Sol Farm today) and showcases the best of it. Chef Jaye Wilkinson oversees a culinary team that serves organic and local ingredients whenever possible. Everything I've eaten here has been superb, from spring onions with romesco to pristine salads and New Mexico–raised steaks. They make all their own pastries, breads, desserts, and ice cream, including a luscious butter pecan. If you're not up for a full meal, try one of the flights of wines or beers with cheese. The casually comfortable restaurant is very popular, so reservations are always advised.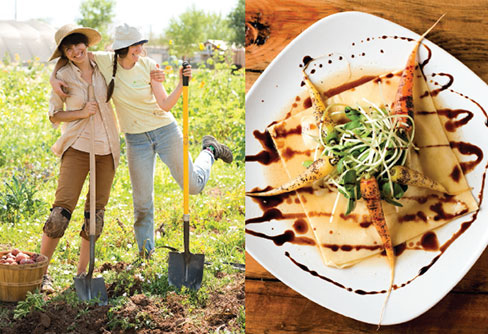 Read the full article here: New Mexico Magazine - October 2013 - To Market, To Market
Friday, 11 October 2013 12:37
COTTONWOODS AND CABERNET
By ANDREW COLLINS - Photography By JAY HEMPHILL
The golden leaves of century-old cottonwoods dominate Albuquerque's fertile North Valley. The area also provides access to the popular, multi-use Paseo del Bosque trail. Visitors can hike or bike this scenic route, which provides occasional glimpses of the Río Grande and Sandía Mountains. The North Valley is peppered with small farms, vineyards, restaurants, and produce markets. Get a taste of the area's locavore-driven, seasonal American fare at Farm & Table, located on a 10-acre farm (Sol Harvest Farm) in a remodeled, 200-year-old adobe home.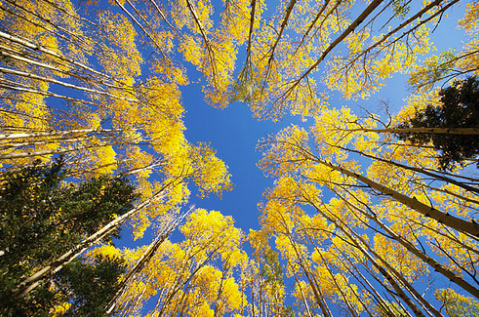 Read the full article here: New Mexico Magazine - October 2013 - Gold Rush